Italian inspired creamy dessert made with Savoiardo biscuits dipped in coffee, layered with rich mascarpone cream and dusted with cocoa.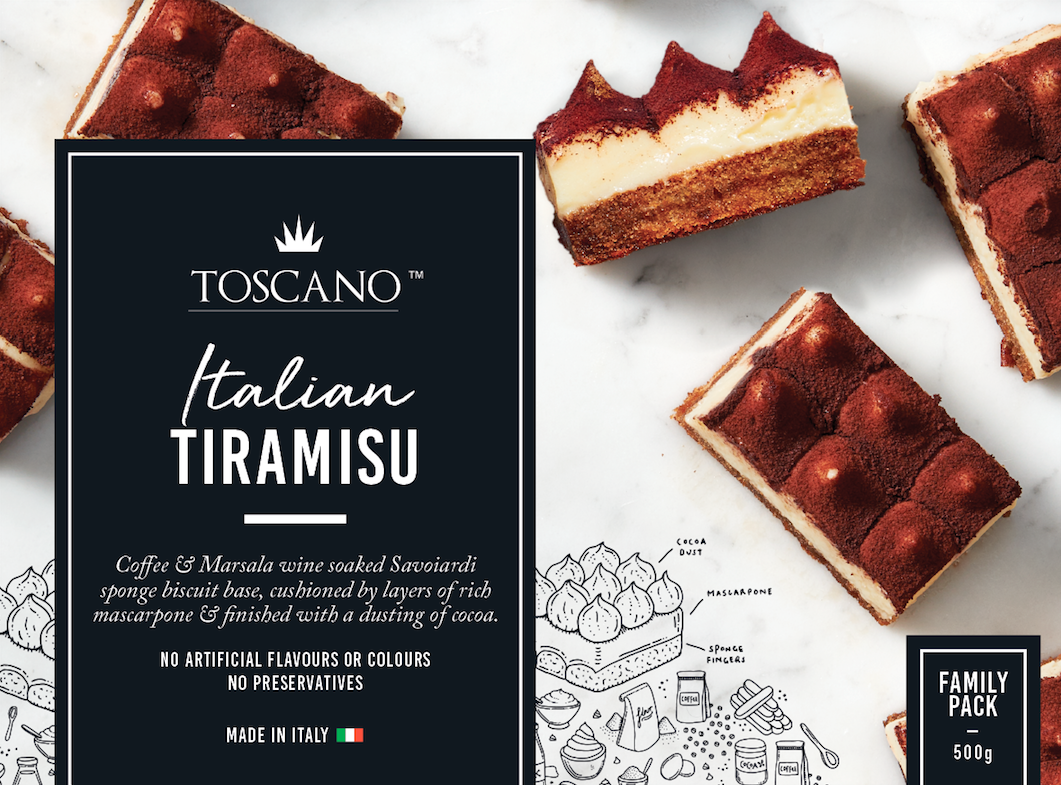 Ingredients
Glucose Syrup, Reconstituted Milk [Water, Milk Solids], Water, Savioardo Biscuit (Minimum 9.0%) [Wheat Flour, Egg, Sugar, Milk Proteins, Raising Agents (450,500)], Mascarpone (Minimum 5.0%) [Cream, Acidity Regulator (lactic acid)], Vegetable Oil, Sugar, Milk Proteins, Egg Yolk, Alcohol (2.5%), Stabiliser (420), Cocoa Dusting (Minimum 1.0%) [Cocoa (Minimum 0.5%), Dextrose, Wheat, Starch, Sugar, Cocoa Butter), Marsala Wine (Minimum 0.9%), Thickeners [407, 415], Soluble Coffee (Minimum 0.6%), tapioca starch, emulsifiers (471, 472b), coffee extract(0.1%), flavourings, salt.
Allergens
Contains gluten, milk, egg. May contain traces of nuts and soya.
This product contains 2.6% alcohol by volume.
Nutritional Information:
SERVINGS PER PACKAGE: 6
SERVING SIZE: Approx. 83g
AVERAGE QUANTITY
PER SERVING
AVERAGE QUANTITY
PER 100g
ENERGY
963kj

229(Cal)

1161kj

276(Cal)

PROTEIN
3.0g
3.7g
FAT, TOTAL  / SATURATED
8.0g  / 6.0g
9.9g  / 7.4g
CARBOHYDRATE  / SUGARS
28.5g  / 16.3g
35.5g  / 20.3g
DIETARY FIBRE
0.7g
0.8g
SODIUM
87mg
105mg